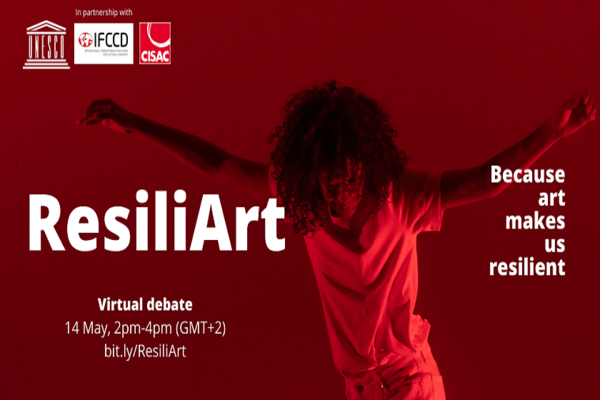 The Road to Recovery: 14 May UNESCO-CISAC "ResiliArt" event for creative professionals
Paris, 13 May 2020 – A second "ResiliArt" debate organised by UNESCO in collaboration with CISAC and IFCCD will unite creative professionals from around the world and focus on Covid-19 recovery strategies for the cultural and creative sectors.
The link to participate in the event on 14th May from 2pm is here : http://unesco.org/resiliart-debate . 
The invitation and details are attached. More relevant documents can be found here.
Participants:  
Pascal Rogard, Director General of the Society of Dramatic Authors and Composers (France)
Anitta, singer, songwriter and actress (Brazil)
Fouzia Saeed, Director General of the National Arts Council of Pakistan 
Cheick Oumar Sissoko, Secretary-General of the Pan-African Federation of Filmmakers
Mohamed Saif Al-Afkham, President of the International Theatre Institute (Arab States)
Ferne Downey, President of the International Federation of Actors  
Jana Vozárová, Director General of LITA, (audiovisual, dramatic, literary and AGP society, Slovakia)
The ResiliArt movement was launched by UNESCO in partnership with CISAC to raise awareness on the impact of Covid-19 on the cultural and creative sector, mobilise the global creative community and influence policymakers and governments worldwide.
Further information on the ResiliArt movement can be found here.