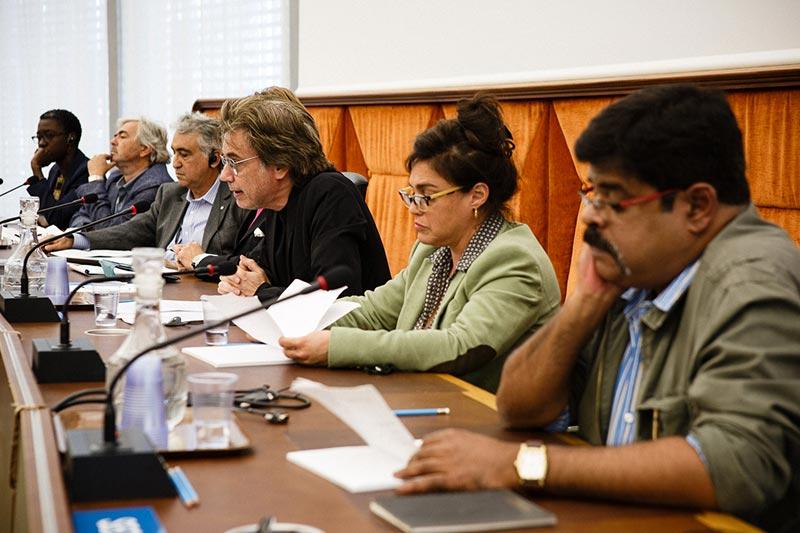 Screenwriters and Directors Speak at WIPO
On the 24th September 2014, the UN's World Intellectual Property Organization (WIPO) welcomed a group of internationally renowned creators, including three representatives form the Writers & Directors Worldwide repertoire, to speak at their 54th General Assembly in Geneva.
Organised by the International Confederation of Societies of Authors and Composers (CISAC), this panel discussion focused on three of the most pressing issues facing creators today:
How to achieve a fair and sustainable creative ecosystem in the digital age

The importance of respecting creators' rights

The urgent need for an open dialogue with all stakeholders, in particular key players from the digital sector
Led by CISAC president, Jean Michel Jarre, the panel comprised visual artist Hervé Di Rosa, songwriter Eddie Schwartz, and three audiovisual creators: Angèle Diabang, Senegalese film director; Vinod Ranganath, Indian playwright, screenwriter and director; and Daphna Levin, Israeli screenwriter and director.
Mr Jarre raised several key issues, in particular the need to develop innovative business models that fairly remunerate creators and open the doors to new partnerships with the digital sector. He pointed out that creators are at the centre of the digital economy and that developing sustainable business models with digital intermediaries is essential.
"We creators are pro-technology. We embrace it and welcome the wider access to culture that digital devices and services afford the public, and the opportunity to reach wider audiences that technology affords creators. But we need business models that make sense to all parties. Creators and policy makers have an opportunity to work together to shape policies that reflect the intrinsic value of the creative industries, ensuring fair remuneration and, by extension, a sustainable and dynamic growth for each stakeholder of the creative chain, from the artist to the distributor."
Ms Diabang agreed, pointing out that a favourable legislative framework in Europe can act as an example of what should be done elsewhere, but if creators' rights are weakened and undervalued in the European arena, the reverberations will be felt throughout the world.
Highlighting the relative weakness of creators' bargaining positions as individuals, both Mr Ranganath and Ms Levin spoke about the importance of collective management of rights and the vital role that collective management organisations play, and must continue to play, in protecting the rights of creators and ensuring their interests are promoted.
Gallery