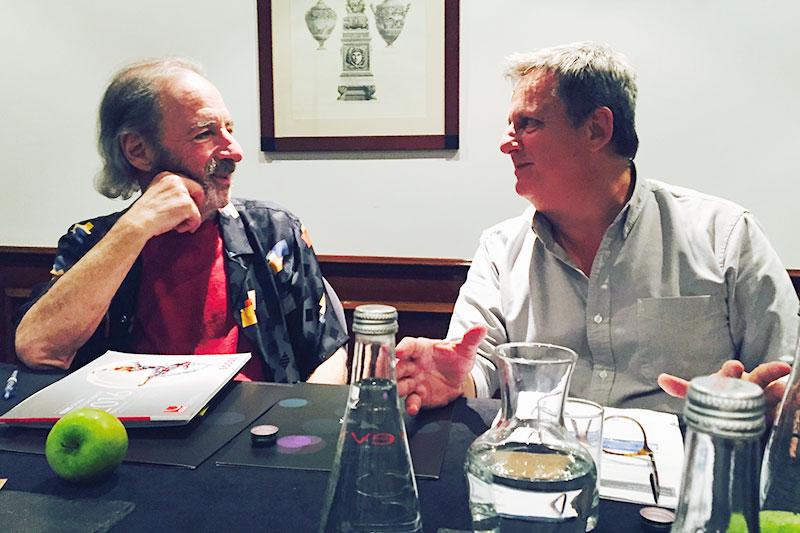 Writers & Directors Worldwide Meets with Harry Shearer of the "Fairness Rocks" campaign to Share Best Practice in Fight for Authors' Rights
On the 23 June, Writers & Directors Worldwide president, Yves Nilly, met with acclaimed author, director and actor, Harry Shearer to discuss their shared experiences of audiovisual rights campaigning. While Writers & Directors Worldwide has been successfully pursuing legislative changes via The Audiovisual Campaign, Mr. Shearer has been fighting his own battle for equitable remuneration that encapsulates many challenging issues familiar to audiovisual creators around the world.
Mr. Shearer recently launched the "Fairness Rocks" campaign to publicise the legal case brought against the French media conglomerate, Vivendi S.A., by the creators of the seminal 1984 comedy documentary film, This is Spinal Tap. The film follows the fortunes of a British rock band on their comeback tour of America and its improvisational style defined the "mock documentary" genre. The four creators of this band – Christopher Guest, Michael McKean, Rob Reiner and Harry Shearer ­– succeeded in producing some of the best known and best loved characters in comedy cinema, and yet their share of payment for the merchandising and soundtrack sales are incredibly small.
This is Spinal Tap was listed in Total Film's 100 Greatest Movies of All Time and achieved the coveted Number One spot on Time Out London's 100 Best Comedy Movies list. It has been regularly shown all over the world for more than 30 years and the band's logo is internationally recognised. However, the film's creators were paid just $81 (eighty one dollars!) as their share of total worldwide merchandising income between 1984 and 2006. In addition, they were told that the total income from soundtrack music sales between 1989 and 2006 amounted to just $98.
"Despite the widespread success of the film and its music, we've fallen victim to the same sort of fuzzy and falsified entertainment industry accounting schemes that have bedevilled so many other creators," said Shearer. "This is a simple issue of artists' rights."
The questions raised here have a huge number of parallels with the audiovisual remuneration right campaign in that the processes involved in paying creators are often vague and difficult to comprehend. "These types of problems are inevitable when a film director or screenwriter is required to negotiate a fee that makes no allowance for the future success of the finished work," said Nilly. "Setting a remuneration right into law solves this issue and stimulates the creation of exciting new work."
The Audiovisual Campaign has helped to bring about this solution in Chile and Colombia recently as their governments have introduced legislation to include an unassignable, unwaivable right to remuneration. In Europe however, campaigners are still battling to establish a level playing field for authors as part of its EU Copyright Directive.
Mr. Shearer is hopeful that the "Fairness Rocks" campaign can help all creators, authors and performers, not just those involved in this particular case. "Though we've launched this lawsuit on our own, it is in reality a challenge to the company on behalf of all creators of popular films whose talent has not been fairly remunerated.   We are just four people seeking redress for blatant injustice, but we hope this lawsuit will, in its own way, help set a new precedent for faithful and transparent accounting practices, and fair artistic compensation, industry-wide."
Header image © 2017 Olivia De'Ath.