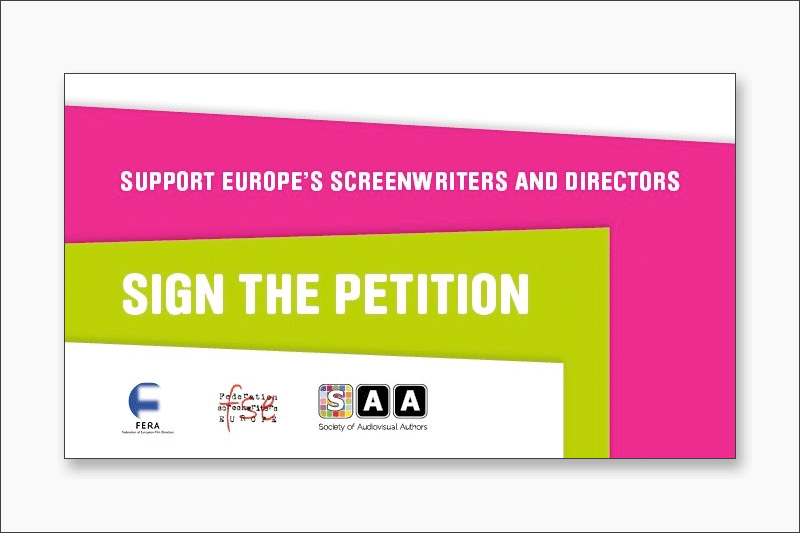 Writers & Directors Worldwide Backs New Petition in Support of European Audiovisual Creators' Right to Remuneration
Writers & Directors Worldwide has restated its support for the European "Fair Remuneration for Screenwriters and Directors" campaign with a call for all members and partners to sign a new online petition for equitable treatment. The petition calls on the European Parliament, the Member States, and the European Commission to hear the voices of European creators and adopt an unwaivable right to proportional remuneration for authors, which would be collected directly from the on-demand platforms by the collective management organisations representing the authors.
---
This initiative has been launched by three fellow audiovisual creator organisations: the Federation of European Film Directors (
FERA
), the Federation of Screenwriters in Europe (
FSE
) and the Society of Audiovisual Authors (
SAA
). It shares the same objectives as the globally-focused Audiovisual Campaign, launched by
CISAC
and Writers & Directors Worldwide in 2015, that has helped to change the laws of
Chile
and
Colombia
in the past 18 months.
quote
---
"This is a crucially important campaign for European audiovisual creators. The recent successes in Latin America, where Writers & Directors Worldwide was supported by
ADAL
and joined with local creators to speak with one voice, proved that lawmakers really can be persuaded to stand up for our rights. We strongly recommend that all directors and screenwriters, as well as anybody that appreciates their work, sign this valuable petition today."
Horacio Maldonado
– Director, Screenwriter and President of Writers & Directors Worldwide
---