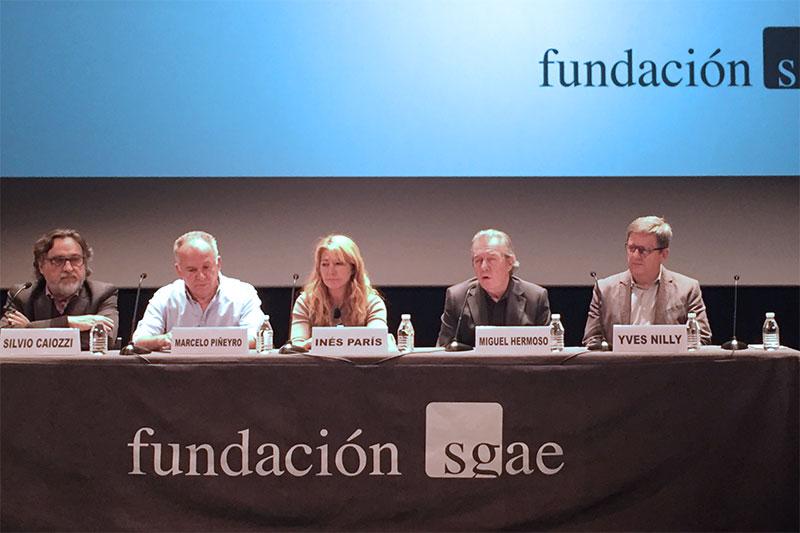 "The Madrid Manifesto" for Audiovisual Authors' Rights Launches with More than 250 Creator Signatories
On 17 November, the SGAE Foundation invited Writers & Directors Worldwide to participate in an event titled "The Remuneration of Audiovisual Authors" where academics and professionals from the European cultural sector gathered to reflect on the state of the industry. Held at the Sala Berlanga in Madrid, this event included a panel moderated by Writers & Directors Worldwide president, Yves Nilly that brought together filmmakers Silvio Caiozzi from Chile, Inés Paris from Spain and Academy Award winner, Marcelo Piñeyro from Argentina with legal expert, Ramón Rey Garcia.
The meeting presented The Audiovisual Campaign and explained the change in the law it proposes: to introduce an unassignable, unwaivable right to remuneration for audiovisual creators as a solution to the current challenges faced by authors.
At the end of the meeting, the combined delegates issued "The Madrid Manifesto". This document was co-signed by more than 250 names and calls upon EU lawmakers to recognise the importance of harmonised audiovisual rights across all countries. It asks that they introduce the vital unwaivable and unassignable right to remuneration demanded in "The Audiovisual Campaign" which is the only way to protect the livelihoods of these creators.