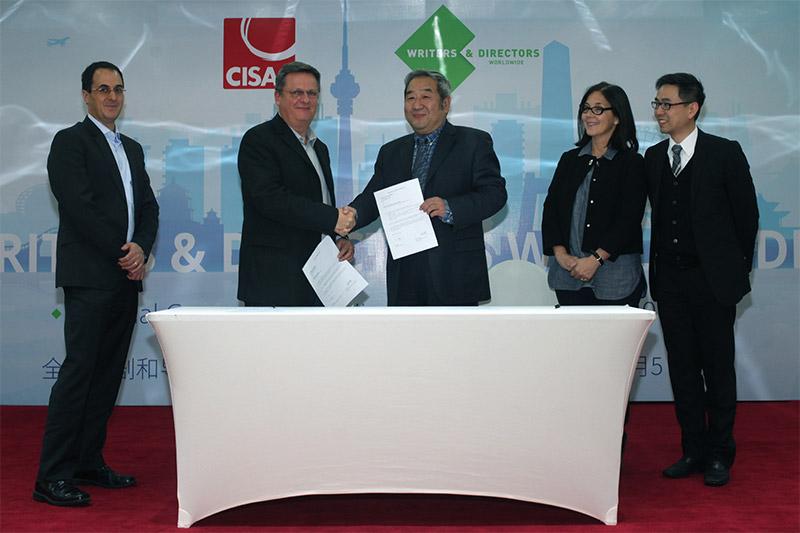 Memorandum of Understanding Signed with China Film Copyright Association
Today at their annual meeting in Beijing, Writers and Directors Worldwide met with the China Film Copyright Association (CFCA) to sign a Memorandum of Understanding between the two organisations.
The aim of this agreement is to form a collaborative partnership that will help audiovisual creators in this fast growing region to achieve fair remuneration and build creative relationships around the world.
The agreement was signed by Writers and Directors Worldwide president, Yves Nilly, and Mao Xiamao, vice chairman and secretary general of CFCA. The signing of this prestigious agreement was officially witnessed by Gadi Oron, CISAC Director General; Silvina Munich, CISAC Director of Creators Relations; and Ben Ng, CISAC Regional Director for Asia-Pacific.
Mr Mao and the CFCA were especially supportive throughout the Beijing meetings and attended on each of the three days. In addition to supporting the screening of Zhao Linshan's 2012 Chinese historical drama "The Assassins", Mr Mao also delivered two keynote speeches. These included an overview of the creator and copyright landscape in China and a seminar presentation titled "Experience on Protecting Copyright of Creators".
Combined with the valuable input from the National Copyright Administration of China (NCAC) and Professor Wang Qian from the East China University of Political Science and Law, the audience gained a deep insight into copyright processes and creators' challenges within this culturally fascinating region.