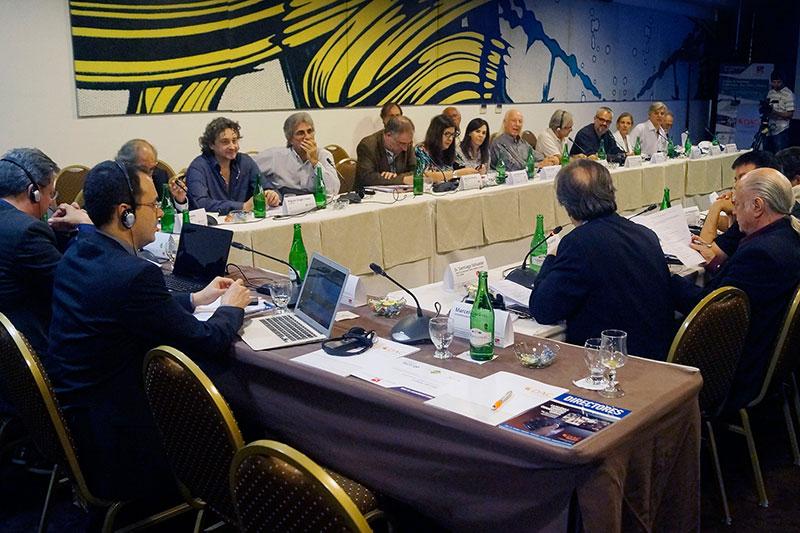 Latin American Directors Add Their Support to European Filmmaker's Call for Action on Creators' Rights
Creators in both regions are fighting parallel battles to secure the vital rights necessary to protect their livelihoods
Buenos Aires – 20 April 2015:
On behalf of its Latin American members, the independent creators' council, Writers & Directors Worldwide, has expressed its backing for the recent
call from Europe's filmmakers
to protect the rights of audiovisual creators. The statement of support came during the regional Latin American meeting of dramatic and audiovisual rights societies organised by
ADAL
(Alianza de Directores Audiovisuales Latinoamericanos) and Writers & Directors Worldwide in the Argentinean capital today.
While our members in Europe are already directly engaged in this cause, directors in Latin America are fighting a parallel battle for law enforcement, regulation and fair remuneration that demonstrates how vital these basic rights are to creators on every continent - Yves Nilly, screenwriter and Chair of Writers & Directors Worldwide.
The European call to action describes how the invaluable cultural contribution that we all make to our national identities needs to be defended while new creators must be encouraged to enter the industry. Achieving this relies on finding the correct, sustainable balance in the distribution, broadcasting and promotion of film. Movie theatres must be actively supported by whatever practical or fiscal means are available while TV broadcasters need to take their place at the core of a region-wide, distribution platform that is mutually beneficial to creators, distributors and the public. Similarly, video-on-demand companies should look at creators as partners, spread their work across borders and drive investment back into new productions. The European Commission is identified as having a lead role to play in encouraging these important changes through adapted directives and tax initiatives. In Latin America we have seen great advances towards these same goals in recent months. New authors' societies such as
DASC
in Colombia and ADAL, an alliance of Argentinian, Mexican, Chilean and Colombian filmmakers, have emerged to better protect the rights of the creator. Brazilian directors and screenwriters have rallied against their exploitation and joined forces with societies in neighbouring countries as well as overseas. And in Chile, a "Day of ¡ACCIÓN! On copyright" in January saw more than 100 directors and writers lead a delegation to the President. This resulted in a new bill, promoted by Writers & Directors Worldwide,
CISAC
and
ATN-Chile
, being signed by president Michelle Bachelet to give directors and screenwriters inalienable rights to remuneration. By working together, learning from successes in other regions, and driving an international awareness campaign to improve the understanding of independent creators' plight, it is our belief that these victories can help safeguard the future of film and culture in all parts of the world.
---
---
More Information
If you have any specific questions on this post or would like to learn more about the work of Writers & Directors Worldwide, please: