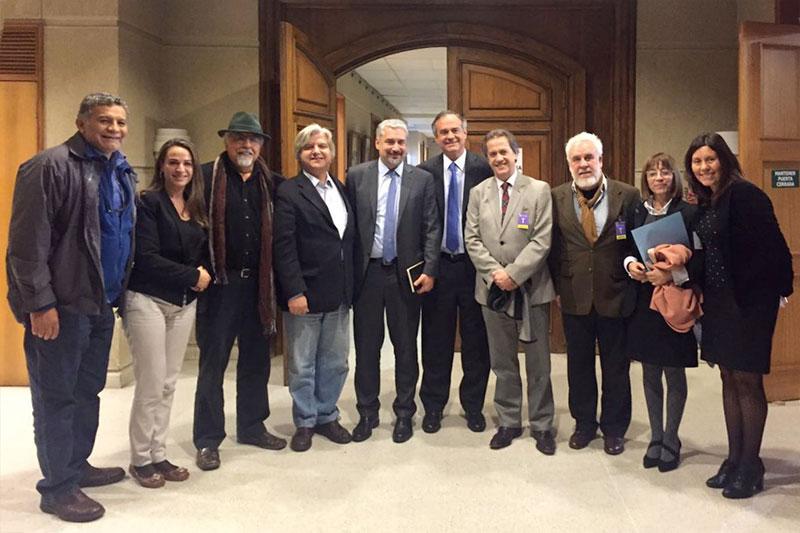 "Ricardo Larrain Bill" for Audiovisual Creators Rights Passes Chilean Senate
Following nearly two years of work, the Chilean Senate today unanimously passed the bill that will ensure an unwaivable right to equitable remuneration for screenwriters and film directors.
This bill incorporates a single article into the law so that the same payments of copyright remuneration received by musicians and actors will also apply to audiovisual creators. This small change allows screenwriters and directors the opportunity to make a livelihood from their art and help to stimulate the cultural and economic contribution of the entire sector.
The senate also decided to name this law after Chilean film director and writer, Ricardo Larrain, the highly celebrated author that helped lead the 2014 "Day of Action!" on copyright that launched the movement to change the legislation. Sadly, Larrain passed away in March of this year before its triumphant conclusion.
Having obtained approval from both the House of Representatives and the Senate, the final step is for Chilean president, Michelle Bachelet to enact the Ricardo Larrain Law. This is expected to take place in a ceremony during the upcoming Valdivia Film Festival in October.
This bill was promoted by Writers & Directors Worldwide, CISAC and ATN-Chile and stands as a great example of how international and local creators can mobilise behind a cause to raise awareness and affect change. Replicating this successful result in all regions across the world is the objective of The Audiovisual Campaign that was launched by Writers & Directors Worldwide in Beijing last December.
Notes:
Pictured above from left to right are: Gerardo Cáceres, screenwriter; Nicole Mengin, CISAC regional director assistant; Sergio Bravo, film director; Cesar Cuadra, director general of ATN-Chile; Ernesto Ottone, Minister of Culture; Ignacio Walker, chairman of the Senate Cultural Committee; Santiago Schuster, CISAC regional director; Jorge López, film director; Nivia Palma, Minister of Culture senior advisor.