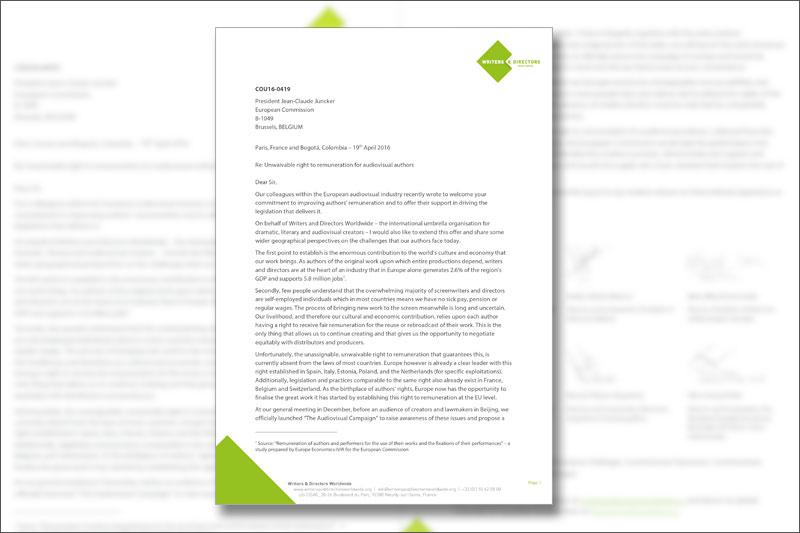 Latin American Creators Join Writers & Directors Worldwide and Issue Open Letter to European Commission
Bogotá, Colombia – 19 April 2016:
During the meeting where Writers & Directors Worldwide
officially launched
The Audiovisual Campaign in Latin America, a key topic of discussion was international cooperation between creators. As part of his address, the president, Yves Nilly, presented a report on the situation currently facing audiovisual creators in Europe and highlighted the actions currently underway by the Society of Audiovisual Authors (
SAA
), the Federation of European Film Directors (
FERA
), The Federation of Screenwriters in Europe (
FSE
) and the European Grouping of Societies of Authors and Composers (
GESAC
). He expressed the hope that the Commission's initiatives will include appropriate mechanisms at the EU level to ensure audiovisual authors' remuneration when their works are exploited online. As is also the case for the Latin American or Australian Authors members of Writers & Directors Worldwide, a legal basis for this remuneration scheme is essential to provide audiovisual authors with a direct income for the exploitation of their works on the internet across Europe and other continents. Following this update, the more than 70 delegates and authors' society representatives present at the event unanimously decided to support these actions as part of the global initiative to drive an unassignable, unwaivable right to remuneration for screenwriters and directors into the laws of all nations. On their behalf, six representatives from the region's largest authors' societies issued an official letter to European Commission president, Mr Jean-Claude Juncker. This letter emphasised the economic and cultural contribution of audiovisual creators and proposed a simple law change to address the issues faced by them in achieving equitable treatment. It included this call to arms for European lawmakers:
"By introducing an unwaivable right to remuneration for audiovisual authors, collected from the online distributors of their works, the European Commission would take the global lead in this cause. Your legislation would stimulate the creative economy, demonstrate real support and investment in European culture, and would once again set a clear standard that inspires the rest of the world to follow."
The letter concluded with an invitation to meet and discuss these issues at the upcoming European launch of The Audiovisual Campaign in Paris this summer.
---
Read the Complete Letter to Mr. Juncker
---
The signatories of the Bogotá letter to the European Commission comprised the following renown audiovisual creators:
Yves Nilly (France) – Screenwriter and President of Writers and Directors Worldwide
Sylvio Back (Brazil) – Director and Screenwriter, President of Direitores Brasileiros de Cinema e do Audiovisual
Silvio Caiozzi (Chile) – Director and Screenwriter, Vice President Sociedad de Autores Nacionales de Teatro, Cine y Audiovisuales
Rubén Galindo (Mexico) – Director and Screenwriter, President of Directores México
Mario Mitrotti (Colombia) – Director, President of Directores Audiovisuales Colombia
Marcelo Piñeyro (Argentina) – Director and Screenwriter, Directores Argentinos Cinematográficos