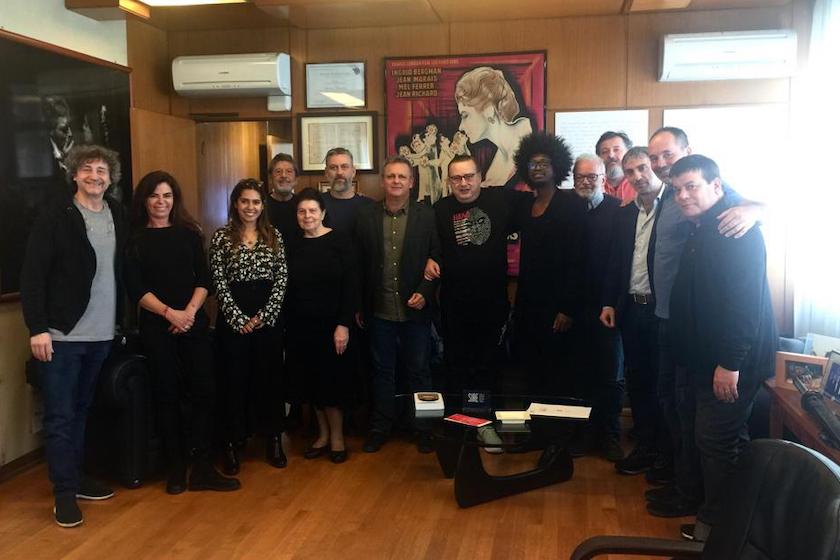 W&DW Executive Committee lands in Rome to set the stage for supporting literary, dramatic and audiovisual repertoires
The Executive Committee of Writers & Directors Worldwide (W&DW) met in Italy on November 7th and 8th at the invitation of one of the largest and most historic multi-repertoire societies in the world, SIAE. The Italian collective management organisation hosted CISAC's creators council for audiovisual, literary and dramatic creators. CISAC Board member and SIAE CEO Gaetano Blandini invited the council, with support from W&DW Vice President Andrea Purgatori, SIAE's international staff and SIAE Audiovisual Department Director Andrea Marzulli. 
The Executive Committee learned from SIAE and their recent efforts in the audiovisual sector, including negotiating with new market players like Netflix and YouTube. This has led to an increase of 58.6% in audiovisual collections since 2014, according to the 2019 CISAC Global Collections Report. SIAE also has posted 14.9% growth in literary collections since 2014, recently thanks to reaching settlement agreements with the Italy Ministry of Cultural Activities. 
W&DW's Executive Committee action plan includes a focus on screenwriters, contracts, documentary authors, journalists' authors' rights and to work with audiovisual organisations, guilds and unions to be active and visible at events. W&DW will be present at the Berlin Film Festival, Playwright Festival in Serbia, Audiovisual Workshop in Sarajevo, RFC Film Festival in Madagascar and the Venice Film Festival, among others. 
Croatian society DHFR launched a campaign "I'd like to watch that, HRT says nyet" to support creators in the country.
The council will be amplifying the Audiovisual Campaign, seeking to establish a remuneration for screenwriters and directors for any acts of exploitation (online and offline). Colombia and Chile have already passed legislation for giving this right to audiovisual creators. 
According to the Global Collections Report, audiovisual collections reached €605m in 2018, propelled by large increases in Italy, Argentina, Austria and the Netherlands. Yet audiovisual only accounts for 6.3% of total global collections by CISAC members, leaving many areas of the world ripe with opportunity to improve the livelihoods of creators. 
The Executive Committee received updates from its regional alliances APASER, ADAL and FESAAL in addition to learning more about the launch of the latest alliance, AAPA in Asia-Pacific. 
It also reviewed the situation for creators in Russia and the project of an Eurasian alliance, India and Croatia along with the status of implementing the European Union Copyright Directive. The Copyright Directive introduced new obligations for online platforms, which seeks to re-establish the balance of power between creators and these digital platforms. 
The 2020 W&DW congress was announced to be held in Seoul, Korea on April 28th-30th.