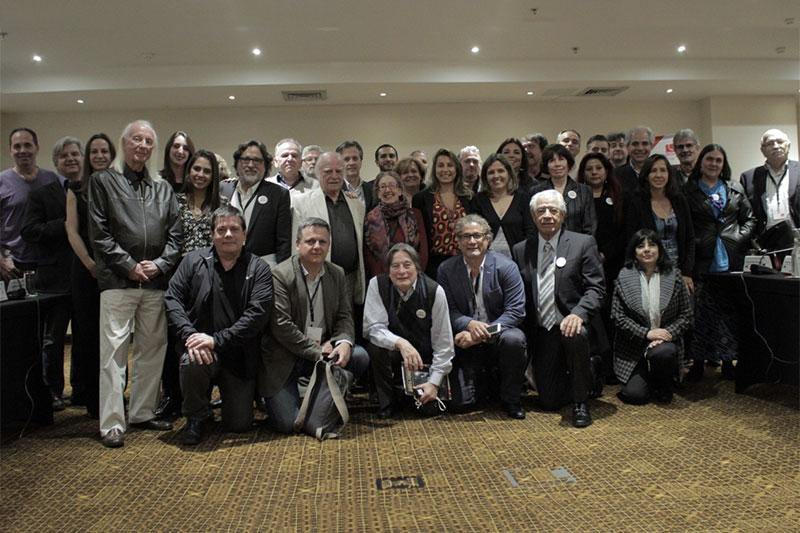 The Audiovisual Campaign Reaches Latin America with Launch in Bogotá, Colombia
In Bogotá this week, Writers & Directors Worldwide joined CISAC and authors' societies from all across the region to officially launch The Audiovisual Campaign in Latin America. First launched in Beijing last November, this campaign aims to bring about a simple change in the law to deliver an unassignable, unwaivable right to remuneration for screenwriters and directors.
The launch was timed to coincide with CISAC's regional dramatic and audiovisual rights meeting and many influential creators and society representatives were on hand to add their voices to the campaign.
In addition to French screenwriter and Writers & Directors Worldwide president, Yves Nilly, and CISAC general director, Gadi Oron, keynote speeches at the event included addresses from DAC chairman, Carlos Galletini and DASC chairman, Carlos Mitrotti. Each stated their commitment to work together in addressing the challenges facing audiovisual creators around the world and placed The Audiovisual Campaign high on the global agenda for lawmakers.
"If we act together as we do in Latin America, there will be no obstacle that cannot be overcome" - Yves Nilly, Screenwriter and Writers & Directors Worldwide President
A panel discussion followed with Adriana Saldarriaga from DASC and Alexandra Cardona Restrepo, from local screenwriters' society REDES describing this issues facing creators. They especially highlighted the current efforts to reform Colombian copyright legislation in the so called "law Pepe Sanchez", a campaign that is strongly supported by W&DW. The panel also featured comments from renown filmmaker and CISAC vice president, Marcelo Piñeyro; chairman of the CISAC Latin America and the Caribbean Committee; Víctor Yúnes, chairman of ARGENTORES, Miguel Ángel Diani; vice president of the Brazilian Association of Writers, Sylvia Palma; and Writers & Directors Worldwide vice president, Horacio Maldonado.
Returning to The Audiovisual Campaign, the Writers & Directors Worldwide president and vice president addressed the 70 delegates, illustrating the key objectives of this vital movement. They explained how even today in the majority of countries, screenwriters and directors do not have a right to receive fair remuneration for the reuse or rebroadcast of their work. This lack of fair payment means that for most creators, usually self-employed individuals, making a living is difficult and negotiating for their best long-term interests is often impossible.
The campaign was then officially launched in Latin American with the presentation of the Spanish language brochure and website to the Colombian Ministry of Culture; a representative of which was present at the conference.
Writers & Directors Worldwide's next international congress is to be held in Rio de Janeiro in September. The location was selected in order to gather The Audiovisual Campaign and the voice of international creators together and support Brazilian authors in their efforts to change the law on remuneration rights in their country.