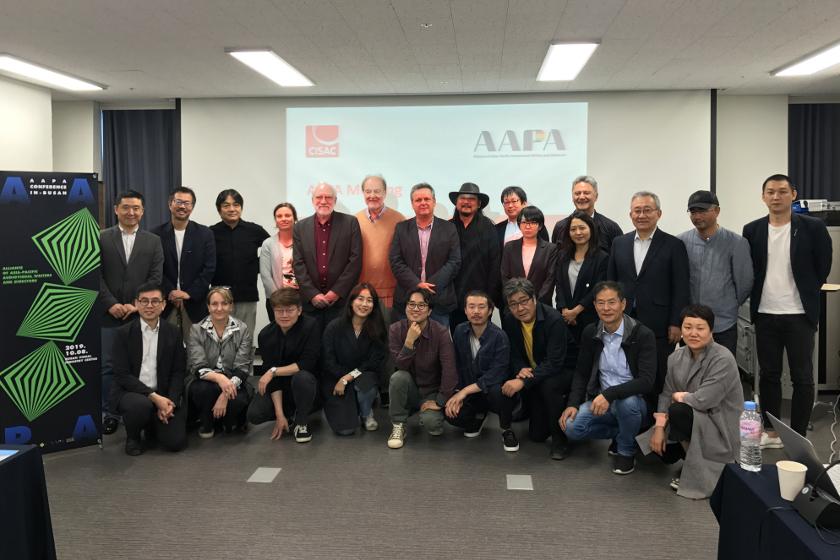 Alliance of Asia-Pacific Audiovisual Writers and Directors launches at Busan International Film Festival
Busan, South Korea, 8 October 2019 - Audiovisual creators from around Asia-Pacific gathered today in South Korea at the Busan International Film Festival for the official launch of the Alliance of Asia-Pacific Audiovisual Writers and Directors (AAPA).
The alliance's mission is to become the voice for Asia-Pacific audiovisual creators. It will be a platform for audiovisual creators to share, connect and communicate, advocate for stronger copyright protections and further their interests in Asia-Pacific.
AAPA is an initiative of Writers & Directors Worldwide (W&DW), the audiovisual, dramatic and literary creators' council of the International Confederation of Societies of Authors and Composers (CISAC). 
Asia-Pacific is a global powerhouse for audiovisual production and creators, with 5 of the top 10 box office marketsand 4 of the top 10 countries by number of feature films. The ability for this industry to thrive is dependent on creators, including screenwriters and directors, and protecting their rights. In many countries such as Colombia, Chile and Brazil, these protections have been secured through copyright legislation to bring fair remuneration to creators.
Korean director of Parasite and winner of the 2019 Cannes Film Festival Palme d'Or award Bong Joon-ho says: "Creators rightfully deserve fair remuneration. Let's work together to implement a proper system".
CISAC Director General Gadi Oron said: "This is the latest exciting extension of the global campaign for fairness for audiovisual authors.  Screenwriters and directors are integral to the economic success of the audiovisual sector, yet they are severely disadvantaged by not having the legal protection they deserve. This issue is particularly important in the dynamic audiovisual sector in Asia-Pacific. We will be working hard with audiovisual creators from Asia-Pacific and beyond, to promote stronger rights and fair remuneration for them".
Screenwriter and W&DW President Yves Nilly said: "With AAPA coming together, directors and screenwriters now have a united and powerful voice worldwide. The global audiovisual market needs a universal right for authors". 
AAPA will support creators by lobbying for new legislation and enforcing laws. This includes legislation to end the unfair treatment of directors and screenwriters by recognising them as authors of audiovisual works. The new alliance will campaign for remuneration right for audiovisual creators, which seeks to ensure an unwaivable economic right to be fairly remunerated for the use of their works, managed collectively by collective management organisations. 
AAPA was first conceived in May 2019 at the CISAC General Assembly by the Directors Guild of Japan (DGJ), Writers Guild of Japan (WGJ), Australian Directors Guild (ADG), Australian Screen Directors Authorship Collecting Society (ASDACS), Australian Writers' Guild Authorship Collecting Society (AWGACS), Directors and Editors Guild of New Zealand (DEGZN), Directors Guild of Korea (DGK) with support from W&DW, Latin American Audiovisual Directors Alliance (ADAL) and Pan-African Alliance of Screenwriters and Directors (APASER).