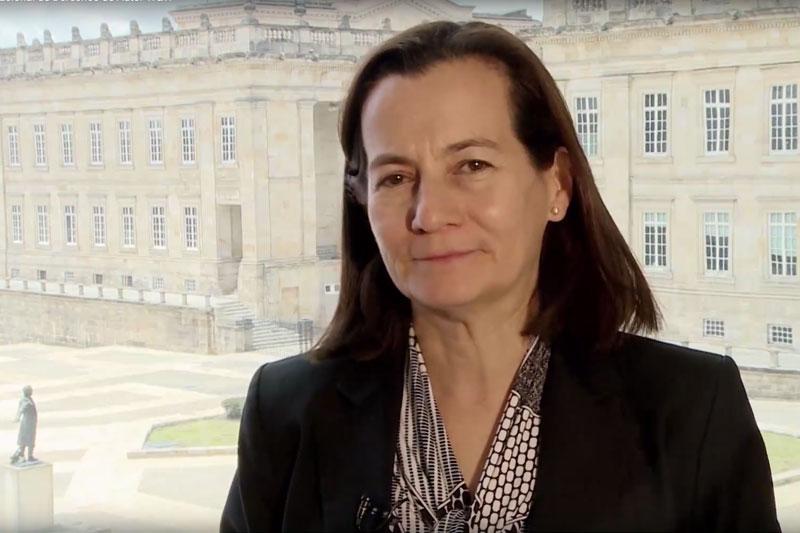 Colombian Congresswoman, Clara Rojas Receives the Annual "Writers & Directors Worldwide Honour Prize"
Inaugural Award Recognises Exceptional Contributions to the Protection of Audiovisual Authors' Rights
Colombian congresswoman, Ms. Clara Rojas, has become the first recipient of the annual "Writers & Directors Worldwide Honour Prize". The award was made by the organisation's president, Yves Nilly, at its annual congress in Rio de Janeiro today and celebrates the exceptional contributions made by non-authors in the fight to promote and protect the rights of audiovisual creators. Over the past 10 months, Ms. Rojas has campaigned tirelessly for a vital change in the law that for the first time will allow Colombian audiovisual creators to receive an equitable share in the success of their work. The so called "Pepe Sanchez act", named after the award winning screenwriter and director, passed its first and second readings in the Colombian House of representatives during the past three months. The act has been driven throughout this process by local authors societies Directores Audiovisuales Sociedad Colombiana (DASC) and Red Colombiana de Escritores Audiovisuales (REDES) with international support from both Writers & Directors Worldwide and the International Confederation of Societies of Authors and Composers (CISAC). Once it receives final approval in the senate, the act will modify the Colombian author's rights law of 1982 by adding a right to remuneration for screenwriters and directors from the public broadcast of their works.
---
I would have loved to be there in person to accept this award but thank you very much for the recognition. I wish you every success in this conference and in strengthening the voice of creators across all of Latin America.

Clara Rojas, Member of the Colombian Congress
---
Ms. Rojas was born in Bogota and is a specialist in commercial law and political science. She became a well know figure in Latin America following her kidnapping by the FARC in 2002 and the subsequent six years of captivity in the jungles of southern Colombia. Since her release, she has written three books, been nominated for a number of humanitarian awards and in 2014, was elected to the Colombian congress. The primary initiative for Writers & Directors Worldwide in 2016 is The Audiovisual Campaign. More details on its objectives and a downloadable campaign brochure are available in four languages at www.theaudiovisualcampaign.org.
---
The support of people like Ms. Rojas is absolutely vital to our campaign, so it's a great pleasure to be able to honour her contribution. We will continue fighting to give audiovisual creators from all over the world the same opportunities to make a fair living from their work.

Yves Nilly, Author and President of Writers & Directors Worldwide
---
Watch Clara Rojas' Acceptance Message