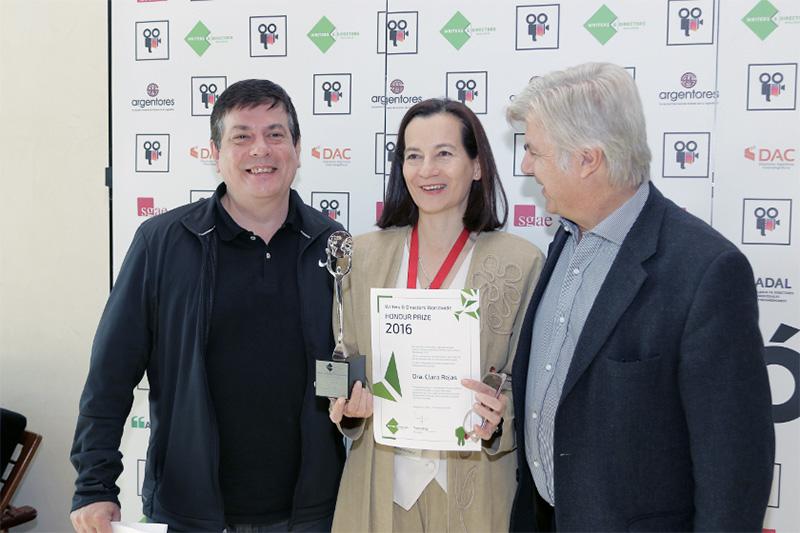 Colombian Congresswoman Clara Rojas Officially Receives CISAC and Writers & Directors Worldwide Honour Prize
Colombian Congresswoman Clara Rojas has officially received the Writers & Directors Worldwide Honour Prize, a new award that celebrates the exceptional contributions made by non-authors in the fight to promote and protect audiovisual creators rights. Representative Dr Clara Rojas has been a tireless and influential champion of the draft law of the Pepe Sanchez bill.
The draft law would recognise the rights of screenwriters and directors in Colombia to receive an equitable share in the success of their work. For the first time ever, it would bestow a right to remuneration for screenwriters and directors for the public broadcast of their works. The bill is named after the award-winning Colombian writer and director, who passed away in December.
The bill was approved by the Senate Committee from the Representatives Chamber. The next step will be a vote under the Plenary session of Congress.
The award was presented in Valparaiso, Chile, by CISAC Board of Directors Chairperson Eric Baptiste and Writers & Directors Worldwide Vice-President and DAC Secretary General, Horacio Maldonado.
Accepting the award, Clara Rojas stressed her commitment to the dignity of authors and creators, and particularly to helping develop arts and culture in Latin America.