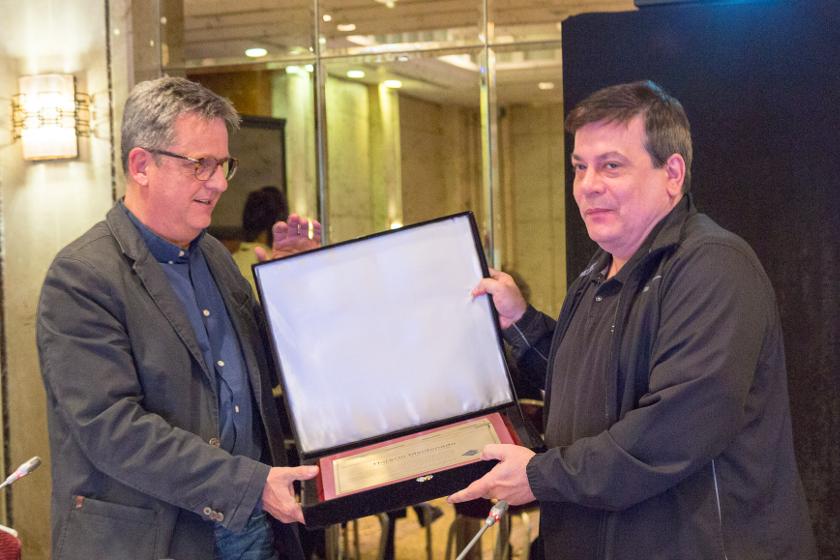 Russian authors receive boost from W&DW annual congress in Moscow
W&DW held its Executive Committee and annual congress in Moscow upon the invitation of the Russian Union of Right-holders (RUR) on March 25th to 27th. Delegates from over 20 countries gathered for the congress, many of whom joined a visit to the celebrated MOSFILMS studios the day before.
CISAC Director General Gadi Oron delivered the opening address, noting how Russian cinema, theatre and culture has traveled around the globe. Oron underscored the importance of partnerships, especially with W&DW, which are key towards shaping policy and influencing the world creators live in.
CISAC Director General Gadi Oron speaks about partnerships at the W&DW congress. Photo ©: DAC/Martin Gamaler
The 2019 Writers & Directors Worldwide congress met in Moscow to support its film directors and screenwriters. Photo ©: DAC/Martin Gamaler
In an opening speech, RUR General Director Andrey Krichevsky highlighted how one of the biggest newspapers published an article about that a fair remuneration proposal will be introduced, supported by W&DW and CISAC, for Russian screenwriters and directors. This initiative has been received positively and has potential to be adopted. Krichevsky indicated that this had proven that the congress was already a success.
The congress saw debates and roundtables treating concerns for literary, dramatic and audiovisual authors. One roundtable drew attention to authors' rights, CMO creation and the Russian Federation Alliance, including discussions on Azerbaijan and Belarus. Another focused on the creation, development and objectives of the Federation of Latin American Audiovisual Societies (FESAAL). Insights were also given on rights for literary and dramatic authors, allowing Russian authors to learn from their international colleagues.
A roundtable discussion on the Russian Federation provides local insight for attendees. Photo ©: DAC/Martin Gamaler
W&DW and other regional alliances in a roundtable discussion. Photo ©: DAC/Martin Gamaler
NRIS Executive Director Valeria Pankratova reported on digital technology market trends in Russia and RUR's IPChain development platform. Finally, J'son & Partners ConsultantTV and Content Department Director Dmitry Kolesov  presented the distribution and circulation of audiovisual works on legal online video platforms and their monetization in the Russian Federation.
Resolutions were passed to support Japan, New Zealand and India. For India, the resolution seeks to reinforce local society SRAI in informing India that the country needs a CMO for screenwriters, particularly to conform to international standards.
The congress saw elections for a new President, Vice President and the Executive Committee. Yves Nilly as President was elected as the new President, succeeding Horacio Maldonado. Maldonado led major additions to partnerships and alliances to the council in addition to legal victories in Colombia, Brazil, Chile and the European Parliament. Maldonado will still be active as a member of the Executive Committee.
Laza, Yves Nilly and Horacio Maldonado during the W&DW congress in Moscow. Photo ©: DAC/Martin Gamaler
CISAC Director General Gadi Oron spoke to Maldonado's work as President, thanking him "on behalf of CISAC for the dynamics, the leadership and inspiration during your term as President of Writers & Directors Worldwide".
Italian screenwriter Andrea Purgatori will succeed Nilly as Vice President. Purgatori is Chairman of SIAE's Supervisory Board and the spokesperson of 100 Autori. 
A new Executive Committee was elected, comprising of: Klemen Dvornik of AIPA (Slovenia), Miguel Angel Diani of ARGENTORES (Argentina), Horacio Maldonado of DAC (Argentina), Curro Royo of DAMA (Spain), Danilo Serbedzija of DHFR (Croatia), Gilles Cayatte of SCAM (France), Andrea Purgatori of SIAE (Italy), Jesus Calzada of SOGEM (Mexico) and Malgorzata Semil of ZAiKS (Poland).
ONDA (Algeria) will be a Permanent Observer its representative to be named. The W&DW alliances will be represented by Mario Mitrotti for ADAL and Laza for APASER.