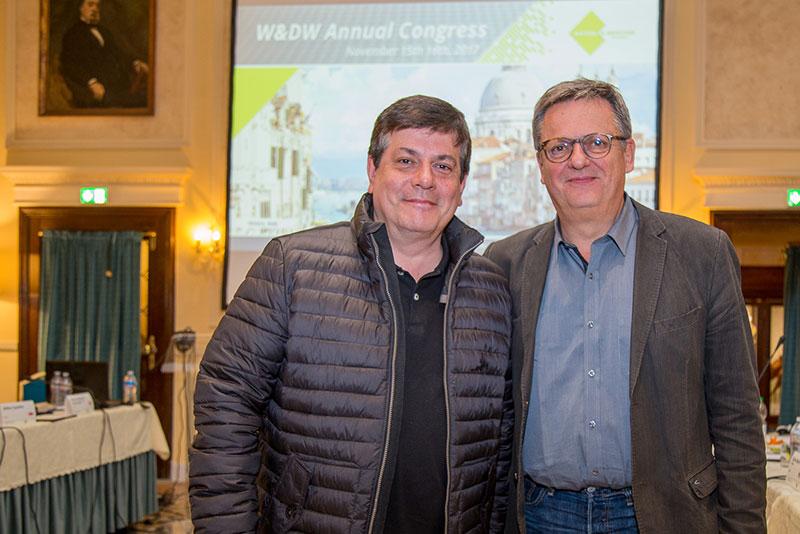 Writers & Directors Worldwide Elects New Presidency and Executive Committee at 2017 Congress in Venice
Writers & Directors Worldwide, the council dedicated to fighting for audiovisual authors' rights, has elected Argentinean film director and screenwriter, Horacio Maldonado, as its new president. The election took place as audiovisual authors internationally gathered at its 2017 congress in Venice to plan and share best practice in their fights for audiovisual authors rights. The Council also elected a new vice-president and executive committee. Horacio, whose candidature was uncontested, has a broad experience base on which to draw. He is a long-standing member of the council's executive committee and had previously served as its vice-president. In addition to his work as a director and screenwriter, Horacio is also a film producer, general secretary of Directores Argentinos Cinematográficos (
DAC
) and the General Coordinator of the Alianza de Directores Audiovisuales Latinoamericanos (
ADAL
). Together with the outgoing president, Yves Nilly, he has helped drive Latin America's leading role in The Audiovisual Campaign, with the laws of both Chile and Colombia being updated in favour of audiovisual authors over the past year.
QUOTE
---
"I am honoured to accept this position and delighted to have such a strong executive committee to support our work over the coming years. Our aim is to continue building partnerships in Africa and Asia Pacific whilst maintaining the pressure on lawmakers in Europe and Latin America to stand up for the rights of audiovisual authors."
Horacio Maldonado
– Director, Screenwriter and President of Writers & Directors Worldwide
---
French screenwriter and author, Yves Nilly, was elected as vice-president following his two-term tenure as leader of the organisation. In July of this year, Yves was appointed president of the French new-author scholarship association, Beaumarchais-SACD. From this, he expects to bring invaluable additional experience to his role with Writers & Directors Worldwide. The Venice congress also saw the election of the nine-person
executive committee
. Its new members are:
Jacek Bromski (Poland) – Director, screenwriter, producer and president of SFP
Yves Nilly (France) - Author, screenwriter, vice-president of Writers & Directors Worldwide
Andrea Purgatori (Italy) – Author, screenwriter
Tim Pye (Australia) – Screenwriter
Curro Royo (Spain) – Screenwriter
Małgorzata Semil-Jakubowicz (Poland) – Theatre critic, translator
Danilo Šerbedžija (Croatia) – Director, screenwriter
Miguel Angel Diani (Argentina) – Author
Delyth Thomas (United Kingdom) – Director
Two representatives from Writers & Directors Worldwide's regional alliances were also appointed to the executive committee:
Mario Mitrotti – Colombian film director and president of the Alianza de Directores Audiovisuales Latinoamericanos (ADAL)
Laza – Madagascan film director and president of the Pan-African Alliance of Screenwriters and Directors (APASER)
In addition to the elections, the two-day congress focused on a range of issues currently facing creators across geographical and repertoire borders. Writers, directors and filmmakers from TV, cinema and theatre attended from Europe, North and Latin America, India, Australia and Africa. Agenda items included panels examining the effect on authors of the current dis-harmony in international remuneration policy. This was followed by a discussion on how the cross-border approach of large digital distributors is affecting local film production and changing the way that national authors societies need to respond to authors' rights issues. There was also a review of the changing role of directors across film, TV, drama and documentary genres. This featured OSCAR-winning director and
CISAC
vice-president, Marcelo Piñeyro. Reviews were also held of the council's international partnerships and attended by Colombian congresswoman Clara Royas, who championed the Audiovisual Campaign and received the
2016 Writers & Directors Worldwide Honour Prize
. The congress received updates of two film restoration projects. One in Argentina, presented by Horacio Maldonado, is designed to revitalise the appeal of classic cinema. Another, the UNESCO/Martin Scorsese African restoration project, was presented by Cheick Oumar Sissoko, secretary general of
FEPACI
. Renowned writer and actor Harry Shearer concluded the Congress with a summary of the "
Fairness Rocks
" campaign relating to the iconic 1984 film "This is Spinal Tap" - for which the original authors have never received an equitable share in its success. In-depth articles on many of these agenda items will follow in the coming weeks.