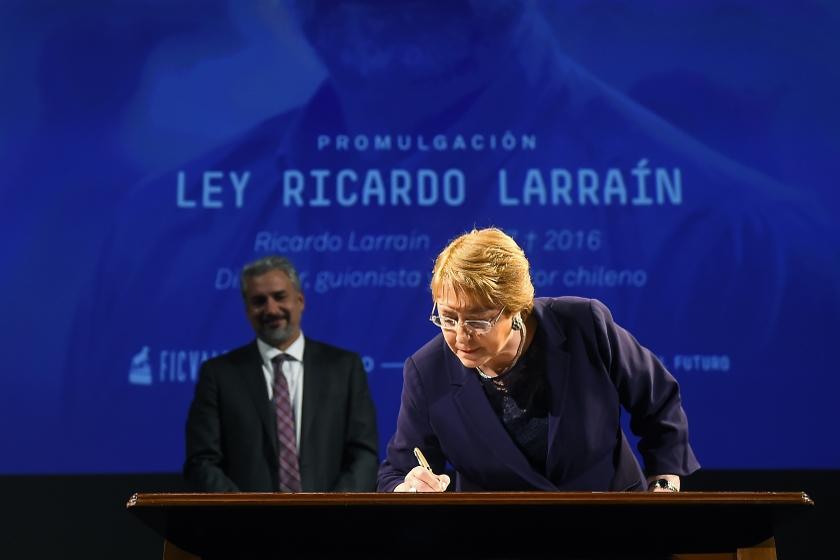 Chilean President Signs "Ricardo Larraín Law" Bringing Fair Remuneration to Audiovisual Creators
The "Ricardo Larraín Law" which grants substantial rights to screenwriters and directors in Chile, has been signed by the country's president, Michelle Bachelet. This historic victory for audiovisual authors took place on the 10 October during the opening ceremony for the Valdivia International Film Festival. It is the culmination of two year's work by the National Society of Authors of Theater, Film and Media (ATN-Chile), Writers & Directors Worldwide and CISAC.
The new law (designated number 20.959) is the first of its kind in Latin America and will fundamentally change the landscape for the country's audiovisual creators by granting them a right to remuneration. For the first time, local screenwriters and directors of cinema and TV productions will receive a royalty from the reuse or rebroadcast of their work.
This matters because the process of bringing a production to the screen is long and uncertain, and the ability to earn a fair livelihood from their back catalogue often makes the difference between continuing as a creator and being forced to leave the industry.
---
What we are doing is an act of justice. We are correcting asymmetry and extending [the right] to a large group of creators of audiovisual works.

Michelle Bachelet, President of Chile
---
---
The president was accompanied by the country's minister of culture, Ernesto Ottone, and also paid tribute to the award-winning Chilean film director after whom the law is named. Ricardo Larraín passed away in march of this year at the age of 59 but the former ATN vice-president had been a driving force in this battle for fair remuneration.
He had first presented the original draft to the president in October 2014 after leading a delegation of authors to the presidential offices during the "Day of Action!".
---
This is fantastic news for screenwriters and directors in Chile, in the Latin American region, and abroad. Audiovisual creators deserve to be protected and they deserve to share in the commercial success of their films and TV programs.

Marcelo Piñeyro, Oscar-Winning Argentinean Director, CISAC Vice-President
---
For more information on what the remuneration right means to authors, and how it can help to stimulate national economies and cultural diversity, please visit www.theaudiovisualcampaign.org.
(Images © 2016 Press Department, President of the Republic of Chile)